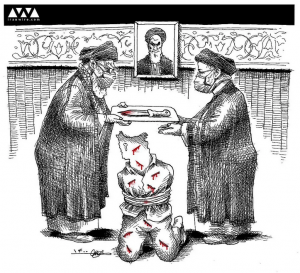 Liberadio поздравляет иранских братьев и сестёр по антиимпериалистической борьбе с избранием нового президента, Эбрахима Раиси. Любящий трудовой народ ещё в конце 80-х дал антисемиту и мракобесу Раиси прозвище «Тегеранский палач» за доблестное подавление остатков демократической и левой оппозиции в стране, вылившееся в 1988-м году в смертные приговоры для более пяти тысяч человек.
Функция его предшественника, Рухани, заключалась, судя по всему, в том, чтобы в интернациональных отношениях создавать мягкую, про-реформистскую личину для чудища Исламской революции. В этом, видимо, больше нет потребности ни во внешней, ни во внутренней политике. У Раиси опыт «антикризисных мер» есть, вот этим он и будет в ближайшее время заниматься. И его положено за это хвалить:
Raisi, when asked about the allegations, told reporters after his election in June that he had defended national security and rights. "If a judge, a prosecutor has defended the security of the people, he should be praised … I am proud to have defended human rights in every position I have held so far," he said.
Вот как очерняет, например, рупор глобализма Newsweek.com будни Исламской революции:
In addition to the water crisis, Iran is reeling from the devastating impact of the coronavirus pandemic. The country suffers from high rates of infection, hospitalization and death. Unfortunately Iranian leaders have put pride before public interest and rejected vaccine exports from Western countries. The situation is grim in urban centers but even more desperate in less developed parts of the country, such as the Sistan and Baluchistan region on the Pakistan border. In such areas, residents who already were struggling with environmental pollution, sandstorms and lung disease are the least prepared to cope with the virus. They suffer from inadequate health care infrastructure, sparse facilities and medical professionals to address the cumulative effects of the pandemic.

Beyond the health calamity, the country is trapped in an economic emergency. This has been sparked by decades of mismanagement, corruption and the diversion of massive amounts of resources abroad to terror organizations. The crisis has triggered social unrest, massive strikes and mass protests. Unfortunately, this situation shows no sign of letting up amid rising trade deficit, spiraling inflation and escalating poverty rates. The Iranian government has been unable to mitigate the economic upheaval of the country and the tragic secondary effects it has spawned such as child labor, drug addiction and prostitution.
Так ведь и брешут цепные псы мирового капитала на страну победивших духовных скреп, так и истекают ядовитыми чернилами их оскаленные пасти: Continue reading "Козням – нет! Казням – да!" →